DISABILITY COMPENSATION
Disability compensation is a monthly benefit paid to veterans for any injury, condition, or illness that started during or was aggravated (beyond natural progression) by active service in the military.
PENSION
Veterans Pension is a tax-free monetary benefit payable to low-income wartime veterans.
EDUCATION
There are several education programs veterans can use for a wide variety of approved education and training programs administered by the USDVA. The programs include: apprenticeship and on-the-job training, college degree and certificate programs, flight training, and correspondence courses.
HEALTHCARE
MVA VSO's located at the Veterans Administration in Los Angeles:
West LA VA – Medical Center
11301 Wilshire Blvd., Bldg. 500, Los Angeles, CA 90073
Hours: Monday, Tuesday, and Wednesday 9 am – 4 pm
Phone: (310) 478-3711 Ext. 40047
Sepulveda VA
Ambulatory Care: Walk-In
16111 Plummer Street,
Bldg. 22, Room 218,
Sepulveda, CA 91343
Hours: Monday – Thursday 7am – 3pm
Phone: (818) 891-7711 Ext.36174
Fax: (818) 895-9493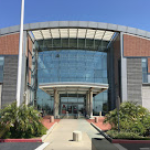 Long Beach VA Medical Center
5901 E. 7th Street,
Bldg. 8, Room 102,
Long Beach, CA 90822
Hours: By appointment only,
Monday – Thursday 8am – 4pm
Phone: (562) 826-8000 Ext. 24657
Fax: (562) 826-5284
DEATH BENEFITS
Burial benefits may include the following: gravesites for casket or cremation remains, headstones or markers, opening and closing of the graves, and continued perpetual care. Burial of eligible veterans and dependents is at no cost when interred at a national cemetery.
DEPENDENT AND INDEMNITY COMPENSATION
Dependency and Indemnity Compensation (DIC) is a tax-free monthly monetary benefit payable to eligible survivors of military service members who died in the line of duty or eligible survivors of veterans whose death resulted from service-related injury.
Make appointment
at MVA
Spotlight